Got a tree that's getting too big? Out of shape or in the way?
Remove those overgrown and dead branches with our tree trimming service for Milford and New Haven County CT.
Avoid the risks to both your tree and yourself with the professional service and equipment of our arborists. This allows us to safely prune trees of all shapes and sizes.
Tree trimming can be dangerous and unpredictable, if your tree is conflicting with a power cable, Madd Beaver Tree Experts can help.
Our tree trimmers know how to prune trees to promote their long term health, while preserving the appeal of your property. Our bucket truck and safety cabling means we can care for trees up to 75 ft in height.
Trust in the experience of our
licensed arborists
who have worked on hundreds of trees in the New Haven county area.
Do you need pruning or trimming?
They might seem like the same thing but tree trimming and pruning are in-fact different things.  Though the differences are very subtle.
Tree Pruning – Removes necessary branches.
Tree Trimming – Promotes healthy growth of the tree.
Professionally speaking, pruning and trimming are completed at different times of the year, and using different tools.
Pruning is generally done less often than trimming, usually every 2-3 years.
Benefits of a Tree Trimming / Pruning Service
Benefits Trees Young and Old
Young trees benefit by: Encouraging only one dominant trunk -sometimes young trees will grow two dominant trunks which can create structural problems in the future.  Pruning helps to develop strong branches and prevent future issues; it helps to ensure a healthier and longer lifespan.
Mature trees benefit by: Having dead and compromising branches removed.  Older trees can be affected by disease, drought, storm damage etc.. which can all lead to dead branches and foster decay.  Pruning helps to extend the lifespan of your tree.
Take advantage of our cranes, bucket trucks and years of experience to safely prune your trees with both their and your care in mind.
Madd Beaver Tree Service and Stump Grinding has arborists licensed with the Department of Energy and Environmental Protection in Connecticut.
24 hour emergency service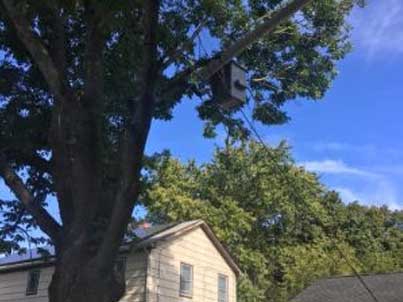 Why choose Madd Beaver Tree Experts?
Got a problem tree? Here's why to choose us....